We care by offering value. The integrated systems we offer boast exceptional products, and help build unique relationships with our customers based on trust, loyalty and a common aspiration to be market leaders.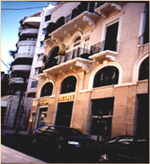 Lasting Relationships Our customers' trust is important to us, that is why we work hard to earn and keep it. We believe in the importance of having a close connection with customers so that it becomes an exchange of technical know-how from our part, and new ideas and developments from their part. This close cooperation allows all parties involved to become more efficient, more reliable, more competitive, and more profitable.


We know how to satisfy our customers. We offer value-added services, by following up with the customers' needs in both pre-sales and post-sales phases. Our highly trained personnel assure the maximum level of service and product quality.


Dedication To Quality It is a never-ending process in everything we do. The pursuit of quality extends beyond our products, we provide service and support in the form of: transfer of knowledge and sharing of technical risks with customers Our aim is to offer the highest levels of quality, through:
high quality standards
state-of-the-art products
Fast and reliable after-sales services.
We understand our client's needs: We understand the complexity and uniqueness of every customer, and strive to not only satisfy their needs, but anticipate them as well. Value for customers. Customers know the difference between purchase price and lifetime cost. We know the importance of lifetime cost, and consequently deliver lasting value by superior services and support.

Our vision is to strengthen our position as complete solution providers, and to become a reference of high quality products, services to our customers.

Innovation In A Highly Dynamic Environment
The continuous changes and evolution of the fast developing industries have compelled us to constantly innovate. Renewal is a cornerstone in our company's structure.

We Promise to deliver the best services and products whilst keeping track of market trends. Technology, innovation, and customer needs are at the basis of our business strategy. We have a passion for continuously developing and improving on our product range.